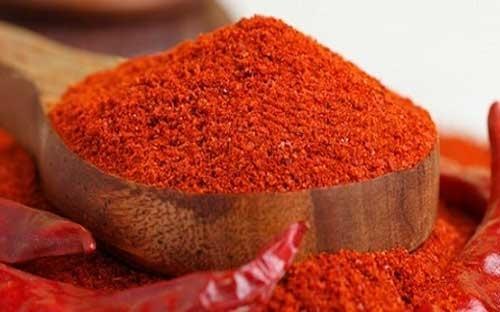 As red chilli is a common ingredient in most of the Indian dishes and curries, it is used as a whole or ground into powdered form to make our dishes flavorful and tasty. Red chilli powder is made from dried, pulverized fruit of one or more varieties of chilli pepper. Sometimes red chilli powder is found in addition with other spices commonly known as chilli powder blend or chili seasoning mix. Chilli powder is used in many different cuisines including American cuisine, Chinese cuisine, Korean cuisine, Mexican cuisine, Portuguese Cuisine, and Thai cuisine.

Without red chilli almost all Indian dishes are incomplete. It is used as a spice to add pungency, color, and taste to the dishes. Red chillies are really spicy and their intense heat is concentrated in the seeds but fresh red chillies are milder. Fresh red chillies are dried or pickled in order to store them for a long period of time. Red chillies are also widely used for making different sauces which are used to add spice to other dishes.

Benefits of red chillies or red chilli powder: -

• Red chillies are an exceptional source of vitamin C. They contain an additional source of vitamin C than an orange.
• Red chillies contain a chemical known as capsaicin that makes red chillies hot. Capsaicin is also known to reduce the risk of skin and stomach cancer. Capsaicin has also significant physiological action and is used in many pharmaceutical formulations and ointments for sore throat, cold, chest congestion, etc.
• Red chillies also act as a remedy for cold and sinus symptoms.
• Red chillies do not contain any cholesterol.
• Red chillies are taken with food to stimulate our taste buds thereby increasing the flow of saliva which contains the enzyme amylase helping to digest starchy or cereal foods etc.
• Red chillies are also utilized in cosmetics like prickly heat powders and skin ointments.

Red chillies or red chilli powder should be kept away from eyes. Red chillies can even cause permanent damage if come in contact. In some cases, they can also cause blindness. Excess use of red chillies may cause indigestion and heartburn. Red chillies should not be taken separately. The seeds of chillies cause numerous cuts on the tip of our tongue causing a burning sensation in the mouth. Drinking milk is the best relief from the burning sensation of chillies or a spoonful of yogurt can be beneficial to reduce the burning sensation. Drinking water only enhances the burning sensation in your mouth.

As India is the largest producer of red chillies, the red chilli powder suppliers in India are instrumental in offering a wide range of red chillies in the global market. For supreme quality red chillies, you can also rely on red chilli exporters in Gujarat. In synchronization with the set food industry standards, the provided red chilli powder is hygienically processed using the latest processing technology. Owing to its moisture-proof packaging and optimum freshness, the provided red chilli powder is widely appreciated by the clients. Moreover, to ensure the best quality and high purity, the offered red chilli powder is tested by the experienced quality controllers against various quality parameters. The network of distribution of the red chilli exporters is widespread which help them to reach out to customers in various parts of the country. You can get these red chillies and red chilli powder at an economical cost.
This entry was posted on June, 11, 2021 at 14 : 24 pm and is filed under Red Chilli Powder. You can follow any responses to this entry through the RSS 2.0 feed. You can leave a response from your own site.