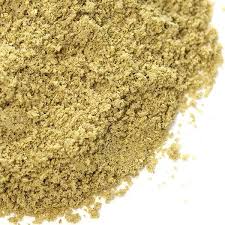 Making curries flavorful, coriander powder is a common condiment in the Indian cuisine. Sprinkling just a pinch of coriander powder is enough to add its characteristic flavor to the Indian curries. The powder is made from dry coriander seeds. Coriander from which the powder is made is known to be one of the world's oldest spices and is considered both as a spice and an herb. The coriander seeds are dried and then grounded into the powder. It can also be roasted and then ground into powder form. This process helps in retaining the aromatic flavor of the seeds.

The coriander powder is described as warm, nutty, spicy, and orange-flavored. Coriander powder can be consumed with water and is helpful in alleviating gas and aiding digestion. This masala is also an essential condiment in barbecue.

To keep the coriander powder fresh, it has to be stored in an opaque and tightly sealed container. Usually, the coriander powder will stay for about six months while the coriander seeds remain fresh for almost a year.
Coriander is known for its medicinal properties all over the world. It is a great source of iron, potassium, vitamins A, K, and C, folic acid, magnesium, and calcium that are beneficial in healing many health issues.

Some of the health benefits of coriander powder are as follows: -

• Coriander powder can beneficial in maintaining blood glucose level and has stimulating effects on the endocrine glands. The powder functions to increase the insulin level in the blood by enhancing the secretion of insulin in the pancreas. This aids in proper absorption and assimilation of sugar, resulting in a marked decrease in the blood sugar level.

• The coriander powder can reduce bad cholesterol (LDL) and increase good cholesterol (HDL), thereby preventing and treating cardiac problems.

• The presence of antioxidants like riboflavin, niacin, folic acid, vitamin A, vitamin C, vitamin K, calcium and carotene, make coriander seeds and coriander powder beneficial in the prevention of osteoporosis and maintaining joint health.

• The presence of borneol and linalool in coriander powder help in the process of digestion and preventing diarrhea which is caused by bacteria. Compounds such as cineol, limonene, beta-phellandrene, and alpha-pinene are present in the coriander seeds and coriander powder. These compounds are known to have antibacterial properties.

• Coriander has compounds like linoleic acid and cineole that are known for their antiarthritic and antirheumatic properties.

• Coriander powder is abundant with disinfectant, detoxifying, antiseptic, antioxidant and antifungal properties and is very useful in curing skin conditions like dryness, eczema, and fungal infections.

• Coriander seeds and coriander powder contain high iron content and are helpful in the prevention and cure of anemia.

• When consumed with powdered aniseed, the coriander powder is an excellent remedy for fever.

• The powder provides soothing relief from the heat and is a very popular ingredient in summer drinks.

• Coriander powder detoxes the body from heavy chemicals like arsenic, mercury, lead, etc.

• It is also helpful in curing nausea, stomach problems, most of the eye problems, allergies and regulating the menstrual cycle.

For purchasing coriander powder, you have to look out for trustworthy coriander powder suppliers in India. Coriander powder exporters in Gujarat are also indulged in providing quality and hygienically processed coriander powder in the market. Owing to the moisture-proof packaging and optimum freshness, the provided product is widely appreciated by the clients.