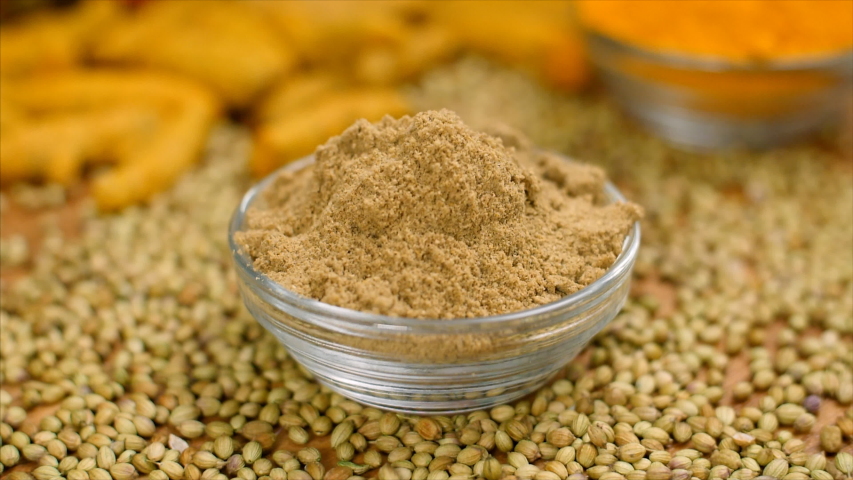 Indian dishes are incomplete without spices that are the soul of Indian cooking. Whether it is a simple or special dish, the use of spices imparts a unique flavor to the recipe. In addition, many times these spices are used for health and medicinal purposes as well. Coriander is one such miracle spice that is used in most Indian dishes due to its flavorful, cooling and medicinal properties.
Coriander has always been an important condiment in Indian cooking. We use them whole or ground up in curries, soups, stews, and vegetables. Besides their cooking uses, coriander seeds and coriander powder have huge medicinal benefits and have been used in medicines since ancient times. Here are some of the benefits of coriander powder-

• Helps In Lowering Blood Sugar Level:
It is excellent in treating diabetes naturally and helps in reducing insulin levels. Due to its therapeutic effects, people suffering from low blood sugar should avoid the consumption of coriander products.

• Good For Women's Health:
Women who suffer from heavy periods should include coriander seeds or coriander powder in their diet. It helps to activate the endocrine gland and hormones, thereby regulating the flow. Coriander powder and coriander seeds also help with cramps and bloating during menstruation.

• Have Neuro-Protective Benefits:
The anti-inflammatory properties of coriander powder are helpful in protecting the nervous system from damage. Coriander is a great source of iron, potassium, magnesium, and calcium. In some cases, toxic metals like lead, mercury, aluminum, etc. get absorbed in our body, and could cause severe health issues like Alzheimer's, loss of memory, and loss of eyesight. Coriander powder contains natural compounds that help in detoxing the body and removing all traces of these heavy toxic metals from the body.

• Helps In Decreasing Blood Pressure:
The consumption of coriander powder has been shown to reduce blood pressure in people having hypertension. Coriander has a diuretic effect on the body, which helps in easing high blood pressure. Coriander powder also helps in reducing the risk of blood clots and strokes.

• Helps In Improving Digestion:
Coriander powder contains antioxidants, which aid in the healthy functioning of the liver. It helps in manufacturing digestive enzymes that take care of indigestion.

• Guards Against Food Poisoning:
Coriander powder has antibacterial properties that work better than any regular antibiotic in case of food poisoning caused by Salmonella. If you use this spice in your cooking regularly, you can protect your body from any bacterial infection that you are likely to pick up.

• Helps In Treating Urinary Tract Infection:
Coriander has cooling properties and helps with the burning sensation when you have a urinary tract infection.

• Helps In Treating Anemia:
Coriander powder is a wonderful source of iron. Regular consumption of coriander powder can boost the iron level in the body.

• Helps In Reducing Cholesterol:
Coriander contains palmitic acid, linoleic acid, and ascorbic acid. These acids help in increasing HDL (good cholesterol) while reducing LDL (bad cholesterol). This spice also prevents cholesterol deposits from settling along the artery walls.

It's time to spice up your life with some coriander powder. Add this aromatic in your daily spice line-up, and boost your health in incredible ways. For purchasing coriander powder, you have to look out for a reliable coriander powder supplier in India. You can even rely on a coriander powder exporter in Gujarat.
This entry was posted on November, 18, 2019 at 14 : 17 pm and is filed under Coriander Powder. You can follow any responses to this entry through the RSS 2.0 feed. You can leave a response from your own site.